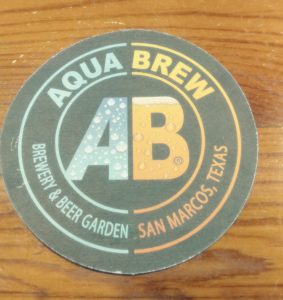 On a recent trip to the Texas hill country, we made a quick stop in San Marcos and discovered a great little brewery downtown. AquaBrew Restaurant & Brewery is relatively new to the scene, but already gaining popularity. When we visited, there were already about half a dozen people enjoying a Saturday morning brunch and brew. We got there shortly after it opened up for the day, so to see so many people was a bit surprising but it also told us that this place must be good!
Getting There – Yelp Assisted
Our Yelp app led us a little astray at first, but we figured out how to get there. AquaBrew is located about half a block south of the square. We took a little alleyway to a back parking lot and then proceeded to approach the building through their back patio. The outdoor area, which they refer to as the beer garden, looked quite inviting with several picnic style tables, large fans, and an outdoor stage area. We definitely plan on going back some nice fall evening when there is live music and we can sit outside enjoying the weather. AquaBrew's beer garden area is dog friendly, so we might even bring our dog if he can promise to behave for once.

We found out later that Yelp could have sent us to the front of the building but we would have had to park on the street, so the back alley parking was just fine. The front also has small patio with a few tables if you like to sit outside and people watch.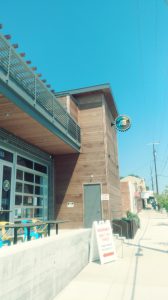 To be clear, AquaBrew is located at 150 S LBJ Dr (formerly known as Austin St).
Brunch and a Brew
Once inside, we made our way to the bar and sat down. We were greeted by a very friendly bartender who gave us the drink menu as well as the Saturday brunch menu. She informed us that they have been there for only about 1.5 years. They make 10 brews in-house and also offer a variety of "beer to go" options. They also have 3 local guest taps that they rotate occasionally.
The brunch menu was not exactly what I expected… but in a good way! They serve a modern American cuisine that features unique dishes such as Artichoke Benedict with Romesco Sauce, Sticky Edamame, and Bacon Jam Fries. Prices range from $6 to $17, with most items being around $12. Every delicious item pairs well with the selection of beer or craft cocktails they offer.
As any good brunch menu should have, they also offer a variety of Mimosa's for only $4. The Mimosa choices include grapefruit, peach-mango, cranberry, and orange.
More Food and Fun
We were only there for the brunch menu, but AquaBrew's Executive Chef Joe Feldmann has created a fantastic menu for lunch as well as dinner. There is even a "Just for Kids" menu that features popular kid favorites like PB&J and Grilled Cheese.
As I mentioned before, there is also Live Local Music at the AquaBrew Beer Garden. Most of these events are in the evenings on weekends (Thursdays – Sundays).
Beer to Go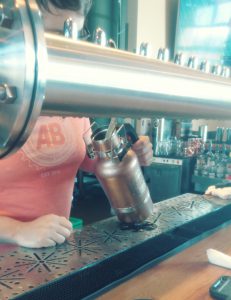 Most breweries these days have a "beer to go" option for those that want to enjoy the craft brews at home. AquaBrew has several different options when it comes to taking it with you. You can get what's called a "Crowler" which is a 32 ounce can of whatever AquaBrew you prefer. You can also get the Crowler 3 pack, which is simply 3 cans of your choice of brews.
The Growler is a 64 ounce glass container that most people seem to choose. And they also have a very select "Growler Club 100" which is only open to the first 100 members. So basically you join the club and you receive 10 fills, a club card, and a drink tank of your choice. At the time we were there, there were only 71 member spots left.
Wine – Because Not Everyone Drinks Beer
While they are primarily a brewery, AquaBrew offers a great selection of wine from all over the world. Personally I would like to see a few local wines offered in the future, but for now there is definitely plenty of good styles to choose from.
When I looked around the interior of the building, I noticed a really great thing… there were people of all ages enjoying the food and fare this place had to offer. Some had a cold craft beer in front of them, while others sipped a chardonnay with their friends. This is what I like to see at a local establishment… people bonding and having a good time while enjoying what makes them happy.
Check It Out For Yourself
If you are ever in the San Marcos area, I really suggest you try this place out. You will be pleasantly surprised and if you see me there, be sure to stop and say hello. I might even buy you a drink!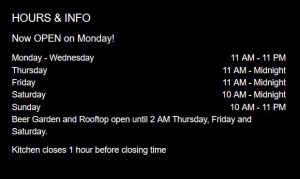 Visit the AquaBrew Official Website for more info