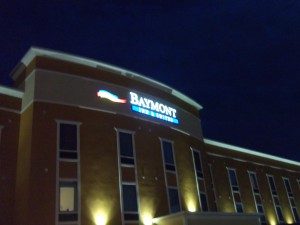 During our travels to a recent job in the lovely city of Victoria, my husband and I booked a room at the Baymont Inn & Suites. Neither one of us had ever been here and didn't know what to expect. What we got was AWESOME!!!  Upon checking in, the receptionist asked if we had ever been there before and after responding "no, this is our first time here", she handed us a gift bag. That's right, when's the last time you checked in to a hotel and received anything other than a key card??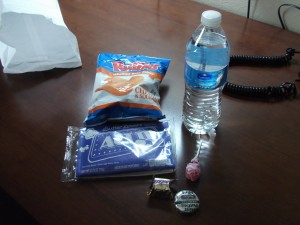 The gift bag was very simple but the extra effort was what stuck in our heads. Inside was a bottle of water, a bag of chips, microwave popcorn and a few candy bars. So far we were off to a good start. The receptionist then informs us that every day from 4pm  to 7pm, they have a complimentary happy hour in the lobby.  Happy Hour??? this just keeps getting better!
The Happy Hour consisted of a spread of chips and salsa with queso, barbeque meatballs, cheese and crackers, and some bread. It also came with TWO complimentary beers. I kid you not! Go ahead, re-read that last sentence!!! That's not Two total… that's TWO per person!

The room was very clean and spacious. It had a flat screen TV, a small couch and coffee table, and a desk.  It also included a good size fridge, a microwave and a one cup coffee maker.
This hotel is fairly new, but they seem to know a little something about customer service and customer satisfaction.  My husband noticed the little sign in the bathroom that said you could call down to the front desk if you had forgotten to pack something.  So he called and told them he had forgotten deoderant and shaving cream (which he had actually forgotten to do).  They were very quick to act and within a few minutes there was a knock at the door.  They supplied us with 3 packets of shaving cream, one small deoderant, and a disposable razor.
Overall, I couldn't get over how great this hotel experience was.  We do a lot of traveling and stay at many different hotels, but this one will most definitely stand out as one of the best in my opinion!