Product: Blender Bottle GoStak Jars
Brand: Blender Bottle
Price: $12.99
---
About the Brand
Blender Bottle was founded in 2000 and is a leading manufacturer of premium and innovative products mostly in the health and fitness idustry.  Products from Blender Bottle have been labeled as some of the "hottest new products" on the market by Good Morning America, Men's Fitness, and The Today Show.
All Blender Bottle products are backed by a 100% Customer Satisfaction Guarantee.  As a global leader in the health and fitness industry, they have introduced a variety of premium shaker cups and storage systems. In an attempt to solve he problem of lumpy protein shakes, Blender Bottle revolutionized the supplement industry with the introduction of the BlenderBall® wire whisk.
---
About the Product
The Blender Bottle GoStak is a collection of stackable jars that are sleek, portable, and versatile. They are designed to carry powders, vitamins, supplements, snacks, and more.  It comes with a removable carry handle that allows you to clip it to a backpack easily.
---
My Review
When I first got my GoStak, I was surprised at the sleekness of it.  I loved the slenderness and portability.  When I'm packing for a trip or simply taking supplements with me to the gym, I love the fact that my GoStak fits perfectly and isn't bulky or awkward.  I simply slip it in the side panel of my backpack or clip it to my bag during travel.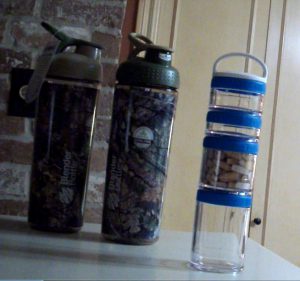 I also really like the fact that I can just take 2 jars with me if I need to.  I don't always need 4, and it's simple to just detach them and leave them behind for another day.  I usually pack protein powder in one and my BCAA's in another.  The smaller jars are perfect for vitamins and supplements.
Another cool idea is to put dog treats in the GoStak.  I have a Blue Heeler and often times I take him hiking with me.  Being able to have a few treats available is perfect for him.  I have a dedicated GoStak just for him.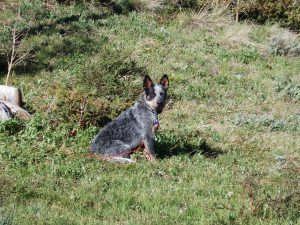 ---
Product Info
Stain and Odor Resistant
Twist N' Lock Technology
Removable Carry Handle
Mix and Match jars
Compact for Travel
Who is this product for?
Campers
Backpackers
Travelers
Hikers
Health and Fitness Enthusiasts
Parents of toddlers or puppies… (Anyone who needs snacks handy)
---
Final Thoughts
Pros:
This product has easily become one of my favorite go-to's.  It is so versatile and sleek.  The price is extremely affordable as well.
Cons:
I have yet to find a negative thing about this storage unit.  It is easily cleaned and stain proof.  I guess the only con is that I don't have more of them.  Well, not yet anyway.  😉
Where Can You Get it?
        Blender Bottle products are available at blenderbottle.com
---
You May Also Like…