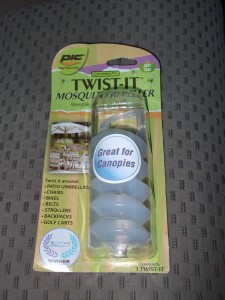 Pic TWISTIT Citronella Plus Twistable Armband Mosquito Repellent
Everytime I go outside, I have to be conscience of my number one enemy… the Mosquito!! Yes, here in Texas there is nothing more menacing than that tiny little insect. So as a result I am constantly trying different products to combat the nuisance. Last time my husband and I went to the beach for some camping and crabbing, I picked up a new product that designed to repel mosquitos.
This particular product is made to twist around objects and provide a barrier of protection. The ability to hang or twist the product on chairs and canopies is great. I used it on my camping chair and for the most part it stayed put.
It claims it is reusable for up to 200 hours. I haven't used it for that long yet, but it does come with a ziplock type baggy to store it in after you have opened the original packaging. I like this, because now I can reuse it at a later point.  I simply stored it with my camping gear and it's ready to use.
As far as it's ability to repel mosquitos, I can honestly say that we didn't have too many hanging around while the Twist It was in use. The minute I walked away from the Twist It towards the truck, I was covered in thousands of blood sucking mosquitos. So from what I can tell, the Twist It seems to work. It's Deet Free, which is nice because I'm not a big fan of deet constantly being applied to me. I know it's necessary sometimes, but there are times that I like to give the deet a rest.
We bought this product at Academy Sports and Outdoors for pretty decent price. Since it's reusable, I think we got our money's worth. Overall, I'm fairly happy with this product!! If you want to try it out for yourself, get it at amazon.