What is Living Green?
Living "green" means making sustainable choices in everyday life about things like what to eat, how to travel, what we use and how we get rid of it.  These choices can be implemented in not only our own homes, but also in the workplace and other places/activities we do on a daily basis.
How Can You Live Green
If you've ever thought about using less and making the most out of what you have (ie.. not letting anything go to waste) then green living is probably for you.  But where do you start?  Changing the way you do even one thing will get you on the right track.  I recently ran across a great book that outlines 365 ways to live green.  The sections in the book include:
Thinking
Home & Yard
Where to Build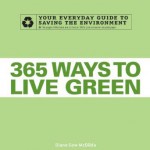 How to Build
Furnishing
Community
Work
Transportation
Eating
Drinking
Recycling
Clothing
Health/Hygiene
Kids
Vacations
Pets
Holiday
Investing in the Future
Planning Your Legacy
Doing More
365 Ways to Live Green
This is an extremely easy read with very practical tips you can use in your everyday life.  The trick to going green is to change one thing at a time that you do and before you know it you are making a difference in the environment but also the quality of you and your family's life.