What You'll Need – (AKA Ingredients)
3 Eggs – Beaten

1 Tablespoon Butter (or cooking spray) for pan
1 Tablespoon Real Bacon Bits (or just use leftover bacon from the breakfast before)
1 Tablespoon Sour Cream
1/2 cup Shredded Cheese (mild to sharp cheddar works best)
Chives
Salt & Pepper (to taste)
---
What To Do – (AKA Directions)

Melt Butter (or cooking spray) in pan.
Add beaten eggs to pan. (TIP: constantly remove pan from heat and then replace…. makes for fluffier eggs)
Add Bacon Bits to halfway scrambled eggs (reserve some for garnish)
Add Sour Cream to eggs (reserve a dollop for garnish)
Add half the shreddded cheese (reserve the rest for garnish)
Season with salt and pepper to taste.
Finish scrambling the eggs til done.
Move eggs to plate… top with Chives, cheese, sour cream and reserved bacon bits.
Servings
This recipe serves 1 person. You can  easily adjust the recipe by adding more eggs.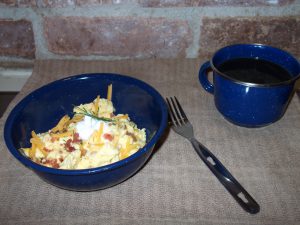 Posted in Recipes and tagged Breakfast, Camp Breakfast, Camping Recipes, Egg Recipes by Elizabeth with no comments yet.
1 bag diced or shredded potatoes (frozen works great or precook your own at home and bag)
1 carton egg beaters (or egg substitute)
2 cans sliced mushrooms
1 cup diced cooked ham (or turkey)
1 bag shredded cheddar cheese
Spray foil casserole pan with cooking oil. Place potatoes in bottom of pan and spread out evenly. Add diced ham and mushrooms on top of potatoes. Pour egg substitute over all ingredients. Top with cheese. Cover with foil and place over campfire. Stir occassionaly to prevent bottom from scorching. Once eggs have cooked through, remove from heat and enjoy. We like to eat it straight out of the pan…. less dishes to clean.

Posted in Recipes, Uncategorized and tagged Camp Breakfast, Camping Recipe, Ham and Egg Casserole by Elizabeth with no comments yet.