Having the right camping stove can mean the difference between an awesome camping experience and a mediocre camping experience. While cooking over the camp fire is always fun, sometimes a proper camp stove is necessary in order to put out great meals for the entire family.
There are tons of different kinds of camping stoves to choose from and finding exactly what will work best for your situation is key. Will you be backpacking and need a lightweight camping stove or will you need a 2 burner camping stove in order to feed a big group?
I've compiled a list of the best stoves in each category below.
Pro Tip: It's always a good idea to have more than one type of stove in your camping kit. It can always be used as a backup in case of emergency or if your main camping stove suffers damage or is inoperable.
---
Best Backpacking Stoves
Backpacking Stoves tend to be lightweight and compact. They often are 1 burner and use minimal fuel. When looking for a stove for backpacking, be sure to find one that boils quickly and can withstand the various conditions you might encounter (wind, rain, freezing temps, etc).
1. Jetboil Flash Cooking System – $99.95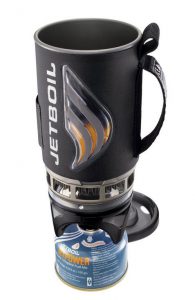 Fuel Type: Canister
Fuel: Isobutane-propane
Auto Ignition
Integrated Pot
Dimensions: 7.1 x 4.5 x 4.1 inches
Liquid Capacity: 1 Liter or 33.8 fluid ounces
Weight: 15.25 ounces
This is actually a full cooking system that includes the pot stabilizer, supports and jetboil cooking cup. The only thing not included is the canister of fuel. It comes in 6 different unique colors/patterns including a realtree camo print. Boil liquid in just over 2 minutes. Enjoy an easy push button ignition that gets you quickly started heating your meal or beverage.
2.  MSR PocketRocket 2 Stove – $44.95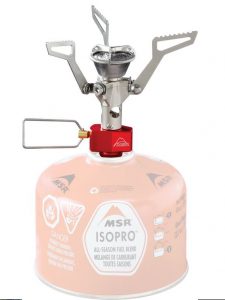 Fuel Type: Canister
Fuel: Isobutane-propane
Average Boil Time: 3.5 minutes
Dimensions: 7.25 x 5 x 4 inches
Weight: 2.6 ounces
This is one of my favorite compact stoves that is perfect for backpacking. It simply attaches to the fuel canister and it holds a variety of sizes of pots. I love how much space it saves in my pack and that it doesn't require a lot of set up. It has a fully adjustable flame making it easy to choose between a rolling boil or a soft simmer. Gourmet meals in the backcountry are easy to whip up with this little gadget.
3.  MSR DragonFly Backpacking Stove – $139.95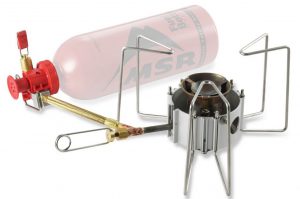 Fuel Type: Liquid
Fuel: Diesel, Auto, White Gas, Jet, Kerosene
Average Boil Time: 3 min. 30 seconds
Dimensions: 6.3 x 5 x 3.5 inches
Weight: 14 ounces
This is a completely durable stove that features great stability and the ability to accommodate large group cooking situations. The DragonFly can actually be utilized for more gourmet outdoor cooking including baking for those that want to try their hand at it.
---
Best 2 Burner Camping Stoves
Having more than one burner on your camping stove allows you to cook more than one thing at a time or to cook more of the same thing for a big group. Whatever you situation, a 2 burner camping stove is a lifesaver in most campsites with more than 2 people.
1.  Camp Chef Summit 2-Burner Camp Stove – $99.95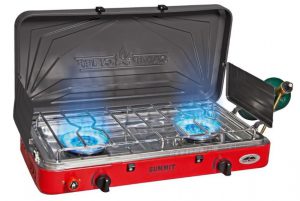 Fuel Type: Canister
Fuel: Propane
Auto Ignition
Heat Output: 20,000 BTUs
Average Boil Time: 2.5 minutes
Dimensions: 23.5 x 11.5 x 4.25 inches
Distance between burners: 12 inches
Weight: 12 pounds
The Summit 2-Burner stove is a workhorse with 2 big 20,000 BTU burners. There is also a temperature control that allows you to fine-tune the flame. With a strong steel cooking grate, you can even use heavy cast iron cookware without damaging the stove. Cooking for a large group is so easy on this surface as well. I'm also a fan of the adjustable legs on the bottom of the unit that let you level out the stove if you are on an uneven surface.
2. Camp Chef Mountaineer 2-Burner Stove – $229.95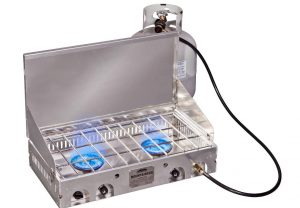 Fuel Type: Bulk Tank
Fuel: Propane
Auto Ignition
Heat Output: 20,000 BTUs
Average Boil Time: 3 minutes, 10 seconds
Dimensions: 27.25 x 14.75 x 7 inches
Distance between burners: 11.5 inches
Weight: 15 pounds
The Mountaineer is a heavy duty, slightly bulky 2 burner stove that can handle whatever you throw at it. It is made from corrosion-resistant aluminum that is lightweight and super durable. Table legs can be purchased and added in order to use this stove for tailgates or barbeques. With an regulator and a 5 ft hose, the Mountaineer is designed to be used with a bulk propane tank so you can cook virtually anything that requires more fuel and longer cooking times (like game-day chili).
3.  Jetboil Genesis Basecamp System Camp Stove – $349.95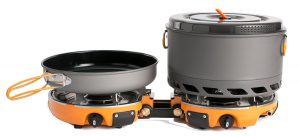 Fuel Type: Canister
Fuel: Propane
Heat Output: 10,000 BTUs
Average Boil Time: 3 min, 15 seconds
Dimensions: 9.8 x 4.6 inches
Weight: 9 lbs. 5 oz.
Integrated Pot
Liquid Capacity: 5 Liters or 169 fl. Oz
This camp stove system includes a 5 L FluxPot and a 10 inch ceramic coated fry pan. I like this stove because it can fold up easily but still allows you to have a 2 burner stove while backpacking or camping. It is a lot easier than carrying around one of the larger briefcase style 2 burner stoves.
---
Best Electric Camping Stoves
A lot of campsites now come equipped with electricity and water, so having a portable electric stove is definitely an option. This is also a great alternative for people that are in a Pop-Up style camper
1. Kung Fu Master Single Burner Electric Stove – Buy Now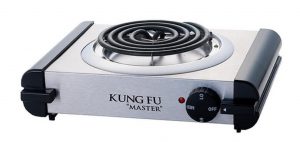 Adjustable temp controls (Lo, Med, High settings)
1,000 watts
Stainless steel drip pan
Dimensions: 11.5 x 9 inches
Weight : 2.85 pounds
The Kung Fu Master electric stove is so convenient and small. When you need a simple single plate stove top and you have access to electricity, this is the best option. The temperature controls range from Lo to Med to High for various cooking needs. This is also a great addition to any dorm room (which if you think about it is a lot like camping sometimes.)
2. Elite Cuisine Maxi-Matic Electric Stove – Buy Now

7 inch and 6 inch cast iron flat cooking plates
Dual adjustable temp controls (Lo, Med, High)
1,440 watts
Dimensions: 18.5 x 11.5 x 3.6 inches
Weight : 8 pounds
Portable for convenient cooking (camping, college dorms, offices, tiny houses)
The Maxi-Matic electric stove features 2 different sized cast iron cooking surfaces (7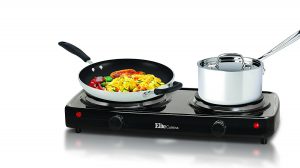 inch and 6 inch). It is powerful at 1,440 watts and is small, so it won't take up too much room in your camping gear. This stove is also perfect for tiny houses and pop up campers.
---
Best Wood Camping Stoves
Cooking with wood is great because wood is usually very plentiful and you don't have to worry about running out of fuel. If you are camping in an area that allows you to gather firewood then a wood stove is also going to save you money.
1. Solo Stove Lite – Compact Wood Burning Stove – $69.99
Packed size: Height 3.8 inches, Width 4.25 inches
Assembled size: Height 5.7 inches, Width 4.25 inches
Weight: 9 oz
Materials: 304 stainless steel, nichrome wire
Fuel: sticks, twigs, pine cones and other biomass
Boil time: 8-10 mins (32 fl oz of water)
The Solo Stove is designed with a double wall that has unique airflow properties. This makes it extremely efficient. It runs on just a handful of twigs or an alcohol burner.  There is also very little smoke produced by this stove as a result of the design.
Solo Stove is the 2017 Gear of the Year winner and is a Backpacker Magazine Recommendation. It is a must-have for all serious backpackers, survivalists, and campers.
2.  WoodFlame Ultra Lightweight Wood Burning Camping Stove – Buy Here
Dimensions: 7.5 x 0.25 x 6 inches
Weight: 1.1 pounds
Easy set up and take down
Collapsible (Folds Flat)
The WoodFlame is a light weight, collapsible camping stove that is made with high grade stainless steel. It folds flat and comes with a nylon carrying case.
3.  Ohuhu Portable Stainless Steel Wood Burning Camping Stove – Buy Here              
The Ohuhu Wood Burning Stove is easy to set up and extremely affordable. It has a stable cooking platform (3 arm pot support system) that reduces the chance of tipping over. There is no feeding slot on this stove, so you cannot add more wood while there is a cooking pot in place. However, this design gives the stove a consistent, hot and efficient burn that feeding slots would interfere with.
4.  EcoZoom Rocket Stove Versa – Buy Here
Dimensions: 12.5 x 11 x 11 inches
Weight: 16 pounds
Refractory metal combustion chamber
Abrasion-resistant, lightweight ceramic insulation
Two hinged doors
3-pronged universal cast iron stove top
The EcoZoom Rocket Stove is great for outdoor patio, camping and emergency situations. It is eco-friendly and energy efficient. Cooking can be done with wood, charcoal, or solid biomass fuel. The Versa is also extremely durable and has reinforced doors to ensure that it will last for a long long time.
---
Best Solar Camping Stoves
Solar stoves are a great way to utilize the power of the sun to cook your meals. When fuel is not available or wood cannot be burned because of burn bans, the use of a solar stove is priceless. Having at least one solar stove in your camping or survival gear is a very good idea. It makes a great backup stove and is also great for the environment.
1.  GoSun Sport Solar Stove – $279.00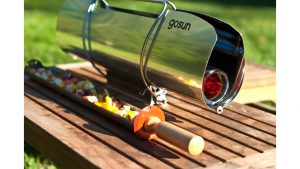 Max Temp: 700 degrees F (371 deg C)
Material: Durable Borosilicate
Cooking Chamber: Evacuated glass tube
Stainless Steel cooking tray
Weight: 9 lbs
The GoSun is a extremely fast and powerful with the ability to cook a meal in 20 minutes using only the heat from the sun. It reaches temperatures of over 550 degrees F. It can bake, boil or fry any food you want.
2. Sunflair Mini Solar Oven – $79.95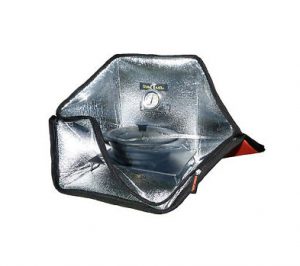 Dimensions: 11 x 5 x 13 inches
Weight: 1.25 pounds
Max Temp: 285 degrees F
The Sunflair solar oven utilizes the sun to gently simmer liquids or food. The 3 wall system helps to capture and reflect the sun's rays. Included is a thermometer to help you know what temperature you are cooking at. Many people use this particular cooking method by setting it up on the dash of their vehicle.