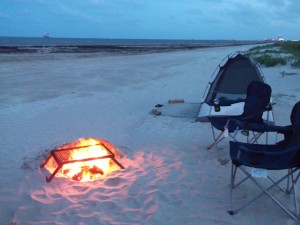 I love taking the short drive down to Galveston and setting up camp on Crystal Beach  on the much less crowded Boliver Peninsula.  A quick ferry ride and you are there.  Less people, more open spaces, more fish to catch… what could be better?!
There are however tricks to having a successful camping trip on the beach.  Here are just a few:
Tip 1:  Prepare for the Sand
This seems like a no-brainer, but most people fail to do this.  Simply mentally prepare yourself for the fact that sand is gonna get all over you and your stuff. If you  just accept this right off the bat, you will have a much more pleasant experience.  But there are some things you can do that will ease the nuisance.  Bring baby powder for instance.  When you are getting into the tent for the night, shake the powder on your feet and anywhere else to get the sand off. It really works and you feel fresh too. You might also want to bring a small bucket or pan for water.  Set this near your tent or vehicle and dip your feet in to remove the majority of the sand.  This will keep your tent and belongings much cleaner. But remember, sand will still get in your tent, so just be prepared to deal with.
Tip 2:  Bring your own firewood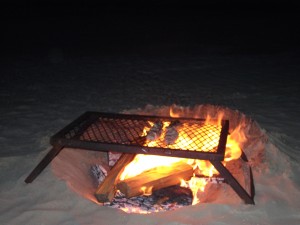 Once again, another no-brainer, but people often forget that a public beach like Boliver does not have a headquarters where you can buy wood or ice. And aside from driftwood (which is not great for burning), there is not a whole lot of wood on the coast so you can't even gather any.  Play it safe and either purchase wood before you get to the beach or chop your own.
Tip 3:  Purchase a beach parking permit
While camping on Crystal beach (in Boliver) is free and requires no reservations, there is a parking permit that must be purchased in order for you to enter the beach.  It is only $10 and the sticker lasts for an entire year.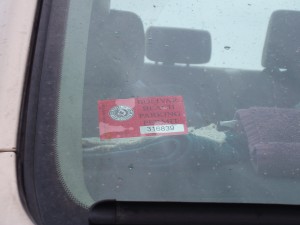 That's a pretty good deal if you ask me.  The permit can be purchased at some of the convenient stores on the main road, or when the state official who patrols the beach comes by to make sure you have one.  If you choose not to purchase one, you will be asked to leave.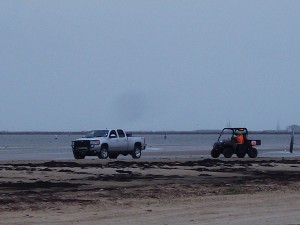 Tip 4:  Get the Right Equipment
Having the best equipment is essential to enjoying your time on the beach or anywhere.  There's nothing worse than a leaky tent or a camp stove that only works when it wants to. Equip yourself with the best and you will never regret it.  Come unprepared and you would be better off just staying home.