This month's Cairn Subscription Box included some great outdoor gear. I was pleasantly surprised and can't wait to use some of these products.
The total contents of October's box had a value of $68.93.
Here's a quick breakdown of the items:
Hydrapak Stash 750 ml Collapsible Bottle – $18.00
Air Rechargeable Headlamp – $34.99
Skout Organic Energy Bar – $2.95
Portland Bee Balm – $2.99
Tribe Pilot Adventure Planning App (4 GB free) – $10 value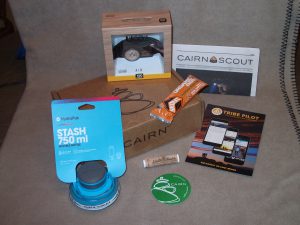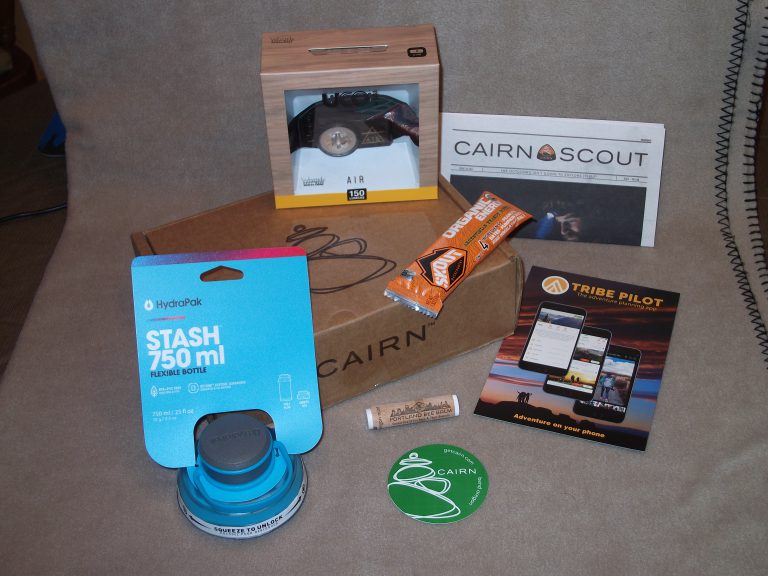 Cairn Scout Newsletter
As always, the box comes with a small newsletter that is made of recyclable paper. The newsletter includes product descriptions as well as valuable coupon codes for the items in the box.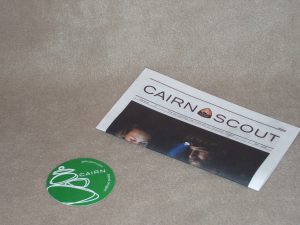 There are also a few short articles designed to inspire and motive your next outdoor adventure.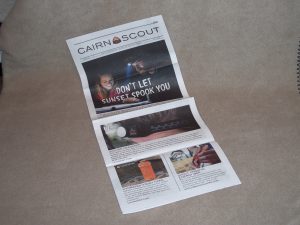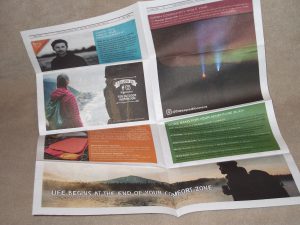 ---
Hydrapak Stash 750ml Collapsible Bottle
The Stash 750 by Hydrapak is a collapsible bottle that only weighs 2.5 oz. It has flexible walls that flatten easily to pack away, which gives you even more room in your backpack.
It retails for $18.00 and comes in 3 different colors… Malibu (light blue), Mammoth (green), and Mojave (orange).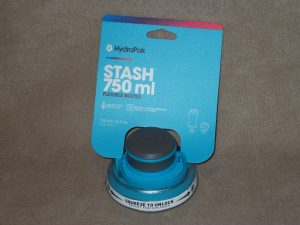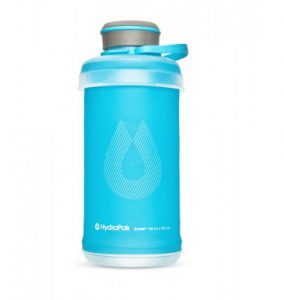 ---
UCO Air USB Rechargeable Headlamp
This item really impressed me. Everyone needs several sources of lighting when camping or backpacking and the headlamp is one great way to go. It frees up your hands and lets you move freely about camp.
The Air Lithium Ion Rechargeable Headlamp is lightweight and comfortable. It features 3 various light selections (up to 150 lumens) as well as a red light option that is easily adjusted via the Infinity Dial.
It is also rechargeable with a standard USB cord. I love this option because carrying extra batteries all the time can get tedious and this feature eliminates that need.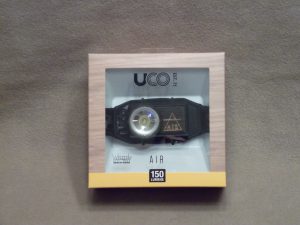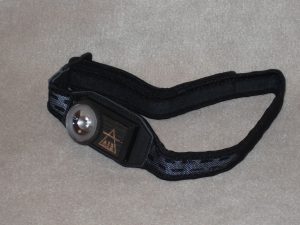 ---
Skout Argentinian Peanut Butter Organic Bar
Skout Backcountry uses plant based organic food to produce the most powerful nutrition. This energy bar only has four ingredients… Organic Dates, Organic Argentinian Peanuts, Organic Oregon Pumpkin Seeds, and Pink Himalayan Sea Salt.
I love most protein or energy bars as they are super convenient and usually quite tasty. This particular bar was very good tasting and although I wasn't sure about the sea salt at first, I found that I rather like it. Calories for this bar are 130, which is pretty common for these types of bars.
The bar retails for $2.59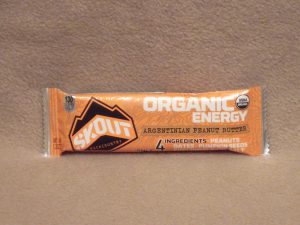 ---
Portland Bee Balm – Oregon Mint
The mint flavoring of this bee balm is actually quite nice. It's not too overpowering and has a slight sweetness to it. It is made with all natural ingredients including local Pacific NW beeswax and Oregon peppermint essential oil.
The Portland Bee Balm Company supports their local bees and their keepers. The tube is surrounded by a handmade wooden wrapper made by a Portland woodworker.
Portland Bee Balm retails for $2.99.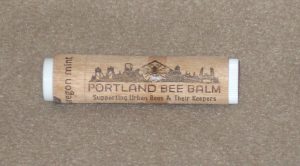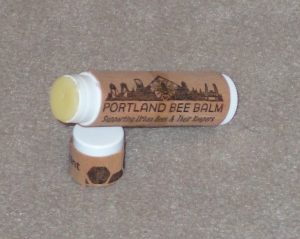 ---
Tribe Pilot Adventure App
Included in this month's box was a downloadable adventure planning app. The code gives you 4GB of free storage on the app that is valued at $10.
I don't know too much about this particular app, but at first glance it looks like it would be perfect for those who like to plan trips with their friends or family. This app allows you organize everyone together and finalize everything from dates to meal plans.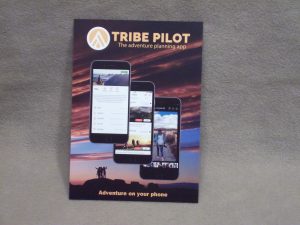 ---
Box Recap
Click here to read more about Cairn Subscription Boxes
This month's box arrived on Oct 21, 2017.
Number of Items included: 5
Water Bottle
Headlamp
Energy Bar
Bee Balm
Adventure App
Retail Value of Items: $68.93
Price of Monthly Subscription: $29.95