Lightweight Foldable Camping Bowls – Fozzil Camping Bowls (set of 2)
These bowls are designed to be folded when needed and unfolded to a flat design when needed to be packed away. They are non stick and BPA free.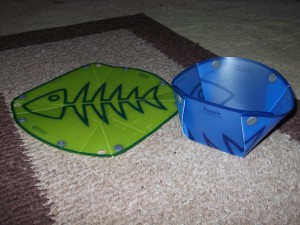 After I bought these 2 bowls, I really wondered if they would fold up into a true bowl design without any leaking or awkwardness.  The folding/snap design is actually very easy to do and it creates a perfect bowl shape with deep sides that are perfect for soups, pastas, and cereal.
I like the lightweight, space saving design and plan on buying a few more as well as some of the other sizes that Fozzil offers.

Posted in Food & Water Containers, Gear Reviews, Products and tagged Backpacking Bowls, Camping Bowls, Fozzil collapsible camping bowl by Elizabeth with no comments yet.