The Yeti Rambler is probably one of my new favorite things!! Not only does it keep drinks cold for hours and in some cases days, it is cool and sleek looking and sweat resistant. I use it all the time to take my ice water to work. I don't have to worry about it sweating all over the desk. There's no need to use a coaster when you use the Yeti Tumbler.

Posted in Food & Water Containers, Gear Reviews and tagged Yeti, Yeti Tumbler by Elizabeth with no comments yet.
Lightweight Foldable Camping Bowls – Fozzil Camping Bowls (set of 2)
These bowls are designed to be folded when needed and unfolded to a flat design when needed to be packed away. They are non stick and BPA free.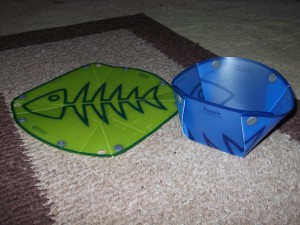 After I bought these 2 bowls, I really wondered if they would fold up into a true bowl design without any leaking or awkwardness.  The folding/snap design is actually very easy to do and it creates a perfect bowl shape with deep sides that are perfect for soups, pastas, and cereal.
I like the lightweight, space saving design and plan on buying a few more as well as some of the other sizes that Fozzil offers.

Posted in Food & Water Containers, Gear Reviews, Products and tagged Backpacking Bowls, Camping Bowls, Fozzil collapsible camping bowl by Elizabeth with no comments yet.

This is the first of hopefully many gear reviews, so I thought I'd keep it relatively simple. The Nalgene bottle pictured here is one of my favorites! I got this particular one at REI several years ago and it is my go-to everytime. I love the size of it. It holds 16 ounces and is slender enough to be comfortable in my hand (about like a soda can, but a little taller). It also easily fits into the side pouches on my backpack and in the cupholders in my truck. Some of the other sizes can be too big and cumbersome.
Another feature I like about this particular bottle is the screw top. I know it's not going to leak through any straw or bite valve. It's easy to clean for that very same reason… no straws or intricate bite valves to worry about. I sometimes even shake up my protein drinks in here when I'm running out the door in the mornings. The loop connecting the top to the base is perfect for attaching to backpacks or belt loops as well.
Overall, this is a great product. I actually own 3 of these so that I can continuously keep them in rotation. I don't often find this exact size or screw top option anymore, so when I do I try to snatch them up.

Posted in Food & Water Containers, Gear Reviews, Uncategorized and tagged Bottle, drinks, Nalgene, REI, Water by Elizabeth with no comments yet.