This month's Cairn Subscription Box included some great outdoor gear. I was pleasantly surprised and can't wait to use some of these products.
The total contents of October's box had a value of $68.93.
Here's a quick breakdown of the items:
Hydrapak Stash 750 ml Collapsible Bottle – $18.00
Air Rechargeable Headlamp – $34.99
Skout Organic Energy Bar – $2.95
Portland Bee Balm – $2.99
Tribe Pilot Adventure Planning App (4 GB free) – $10 value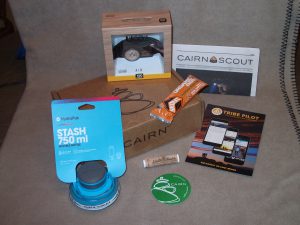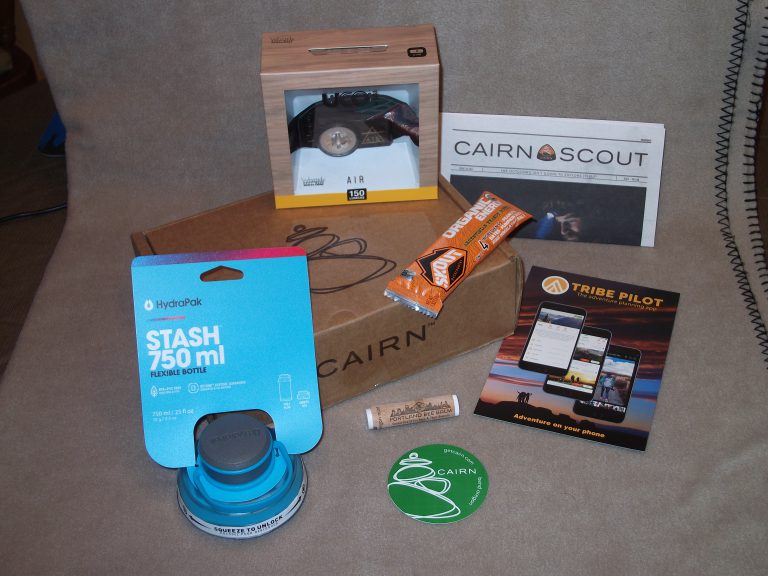 Cairn Scout Newsletter
As always, the box comes with a small newsletter that is made of recyclable paper. The newsletter includes product descriptions as well as valuable coupon codes for the items in the box.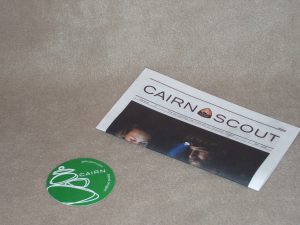 There are also a few short articles designed to inspire and motive your next outdoor adventure.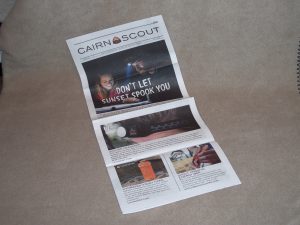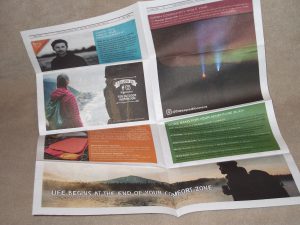 ---
Hydrapak Stash 750ml Collapsible Bottle
The Stash 750 by Hydrapak is a collapsible bottle that only weighs 2.5 oz. It has flexible walls that flatten easily to pack away, which gives you even more room in your backpack.
It retails for $18.00 and comes in 3 different colors… Malibu (light blue), Mammoth (green), and Mojave (orange).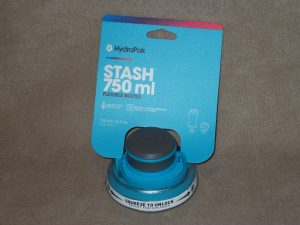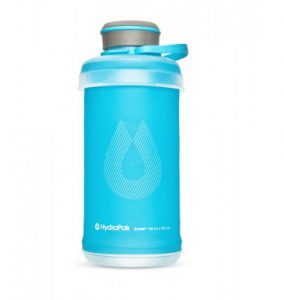 ---
UCO Air USB Rechargeable Headlamp
This item really impressed me. Everyone needs several sources of lighting when camping or backpacking and the headlamp is one great way to go. It frees up your hands and lets you move freely about camp.
The Air Lithium Ion Rechargeable Headlamp is lightweight and comfortable. It features 3 various light selections (up to 150 lumens) as well as a red light option that is easily adjusted via the Infinity Dial.
It is also rechargeable with a standard USB cord. I love this option because carrying extra batteries all the time can get tedious and this feature eliminates that need.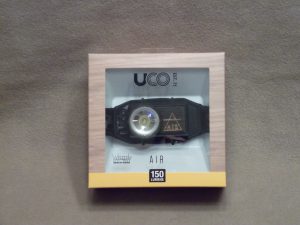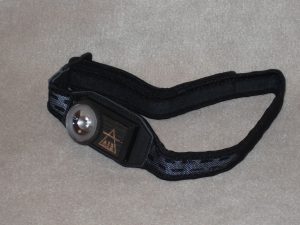 ---
Skout Argentinian Peanut Butter Organic Bar
Skout Backcountry uses plant based organic food to produce the most powerful nutrition. This energy bar only has four ingredients… Organic Dates, Organic Argentinian Peanuts, Organic Oregon Pumpkin Seeds, and Pink Himalayan Sea Salt.
I love most protein or energy bars as they are super convenient and usually quite tasty. This particular bar was very good tasting and although I wasn't sure about the sea salt at first, I found that I rather like it. Calories for this bar are 130, which is pretty common for these types of bars.
The bar retails for $2.59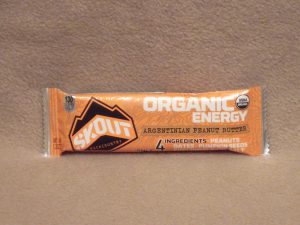 ---
Portland Bee Balm – Oregon Mint
The mint flavoring of this bee balm is actually quite nice. It's not too overpowering and has a slight sweetness to it. It is made with all natural ingredients including local Pacific NW beeswax and Oregon peppermint essential oil.
The Portland Bee Balm Company supports their local bees and their keepers. The tube is surrounded by a handmade wooden wrapper made by a Portland woodworker.
Portland Bee Balm retails for $2.99.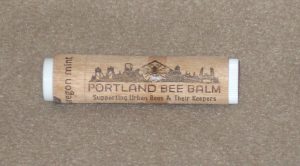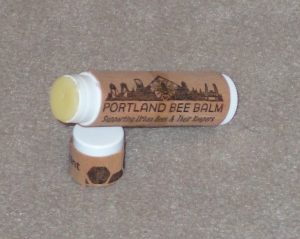 ---
Tribe Pilot Adventure App
Included in this month's box was a downloadable adventure planning app. The code gives you 4GB of free storage on the app that is valued at $10.
I don't know too much about this particular app, but at first glance it looks like it would be perfect for those who like to plan trips with their friends or family. This app allows you organize everyone together and finalize everything from dates to meal plans.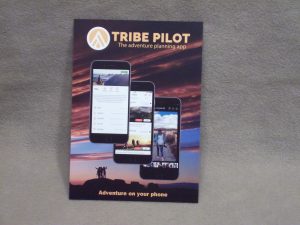 ---
Box Recap
Click here to read more about Cairn Subscription Boxes
This month's box arrived on Oct 21, 2017.
Number of Items included: 5
Water Bottle
Headlamp
Energy Bar
Bee Balm
Adventure App
Retail Value of Items: $68.93
Price of Monthly Subscription: $29.95

Posted in Gear Reviews, Products and tagged Cairn subscription Box, Outdoor Gear, Outdoor Subscription Box by Elizabeth with no comments yet.
Monthly subscription boxes are all the rage right now and there are so many varieties of boxes available. Everything from nutrition snack boxes to boxes for dogs.
As an avid outdoor enthusiast, I recently started searching for outdoor/camping subscription boxes and I came across Cairn. I have to say I was pleasantly surprised!
Cairn is based in Bend, Oregon and strives to inspire people to get outside and discover new products that will enrich and expand their experience. The word Cairn refers to a man-made stack of rocks that is usually used to mark trails.
---
What is the Cairn Subscription Box About?
Basically the Cairn Subscription Box is outdoor inspiration delivered monthly to your door. If you are an outdoor adventure enthusiast or someone who loves camping and being outside in general, then you will love this subscription box.
Every month, you are sent a box of 3-6 amazing outdoor products. The contents inside the box are valued at $50 and up. You simply subscribe, wait for your box, and enjoy. They also have a way that you can review the products and get rewarded with points. Points can be accumulated and once you have enough, you can get a free box.

Once you subscribe for your first box, it will be sent to you within a week or two… I got mine in about 5 days. After that, the box is sent around the middle of each month.
It is a subscription, so every month you will be billed, but you can easily cancel and even restart your subscription at any time. So if your budget gets tight and you need to give your wallet a break, you can stop the monthly subscription and then crank it back up again when you want.
---
2 Subscription Levels
There are 2 separate boxes that you can sign up for. The "Original Box" is the one that I described above and it's only $29.95 per month. The contents inside are valued at over $50. It is delivered monthly.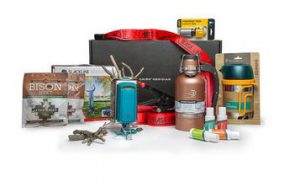 The 2nd type of box you can subscribe to is called the "Obsidian Box" and it is delivered quarterly. This box includes 5-10 PREMIUM outdoor products (valued at $300+) and costs $199 per quarter.
---
What Comes in the Box?
Once you subscribe, you are given a profile survey to fill out. This gives Cairn more information about the kind of outdoor activities you enjoy, your apparel sizes, food & drink preferences and so on. This info allows them to better personalize your box.


The boxes include items such as gloves, beanies, cookware, gear, energy bars, freeze-dried meals, lip balms, insect repellent, fire starters and first aid items. One of the first boxes I received had an LED headlamp that featured 4 different brightness settings. And I believe one of the boxes over the past summer had a hammock with tree straps.
The Obsidian Box has more Premium items in it. Items such as a Marmot winter jacket, ThermaRest camping chair, Premium lanterns, trekking poles, sleeping bags, etc. In other words, this box includes more big ticket items.
---
The Brands Cairn Works With
Backpacker
Clif Bar
Gerber
Hydro Flask
EOG
Gossamer Gear
LifeStraw
Klymit
Mountain Smith
And Many Many More!!!
---
Conclusion – Is it Worth It?
I personally subscribe to this amazing box and I always look forward to walking out to the mailbox and getting that month's box. It's like Christmas every month. I like the fact that they personalize the box based on what you are interested in.
I'm contemplating subscribing to the Obsidian Box in the future in order to upgrade my personal inventory of outdoor gear. But so far the Original Box is great and I haven't been disappointed yet.
I'm even setting aside some of the items that I receive to give as gifts to family and friends for Birthdays or Christmas. Technically that's not "re-gifting", is it? Shh don't tell.
If you are someone who loves the outdoors, camping, skiing, backpacking, etc then you will love this box. I highly suggest signing up at least for a few months and see how you like it.

Posted in Products, Uncategorized and tagged Cairn subscription Box, camping Gear, Subscription Boxes by Elizabeth with 2 comments.