What You'll Need – (AKA Ingredients)
3 Eggs – Beaten

1 Tablespoon Butter (or cooking spray) for pan
1 Tablespoon Real Bacon Bits (or just use leftover bacon from the breakfast before)
1 Tablespoon Sour Cream
1/2 cup Shredded Cheese (mild to sharp cheddar works best)
Chives
Salt & Pepper (to taste)
---
What To Do – (AKA Directions)

Melt Butter (or cooking spray) in pan.
Add beaten eggs to pan. (TIP: constantly remove pan from heat and then replace…. makes for fluffier eggs)
Add Bacon Bits to halfway scrambled eggs (reserve some for garnish)
Add Sour Cream to eggs (reserve a dollop for garnish)
Add half the shreddded cheese (reserve the rest for garnish)
Season with salt and pepper to taste.
Finish scrambling the eggs til done.
Move eggs to plate… top with Chives, cheese, sour cream and reserved bacon bits.
Servings
This recipe serves 1 person. You can  easily adjust the recipe by adding more eggs.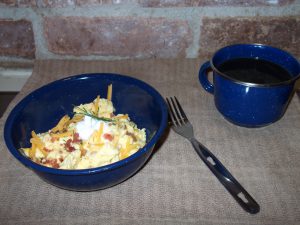 Posted in Recipes and tagged Breakfast, Camp Breakfast, Camping Recipes, Egg Recipes by Elizabeth with no comments yet.

This recipe can be adapted virtually any way you can imagine. For instance, I have used all types of pasta and added a variety of different sauces and even meats and veggies.
Spiral pasta with pesto sauce… Bow Tie pasta tossed with fresh tomatoes and Feta cheese… Ditalini pasta with diced ham and alfredo sauce. The list goes on!
As you can see, this recipe is merely a template for you to use and customize as you wish. Get creative and feel free to leave a comment with your unique creations.
What You'll Need – (AKA Ingredients)
Pasta of your choice – Spaghetti, Penne, Spiral, etc
1 jar/can spaghetti sauce
Shredded Parmesan Cheese
Garlic Powder
Salt & Pepper
What To Do – (AKA Directions)
AT HOME – Cook the pasta according to package directions, Cool and pack in a Ziploc Bag.
AT CAMP – Lay out foil big enough to make a packet folded over meal. Toss pasta with spaghetti sauce and season with garlic powder, salt, and pepper. If you are adding meat, be sure to cook separately beforehand (either at home or at the campsite). Divide the pasta mixture into separate foil packets and sprinkle with Parmesan Cheese.
Fold foil packet together and place over hot camp fire. Cook for about 12-15 minutes and remove from fire. Let cool slightly and enjoy.

Posted in Recipes and tagged Camping Recipes, Foil Packet Pasta with Sauce by Elizabeth with no comments yet.
Small onion, diced

1 tablespoon vegetable oil
1/2 teaspoon curry powder
1 can cream of tomato soup
1 can full of milk (can use powdered milk)
1 can cream style corn
Saute diced onion in oil until tender, gradually stirring in curry powder. Stir in soup, milk and corn. Cover and cook over very low heat until the soup is heated through.
Optional Toppings:
Salsa
Diced Tomato
Sliced Avocado

Posted in Recipes, Uncategorized and tagged Camp Corn Chowder, Camping Recipes by Elizabeth with no comments yet.